Buy the Book
Reinventing Emma
The inspirational story of a young stroke survivor
Emma's story begins with a mystery, first developing disturbing symptoms, then becomes a tragedy when, during a difficult brain operation, she suffers a debilitating stroke and is left in a coma. Nine days later she wakes and must slowly come to terms with a future that has changed forever.
Read the first-person story of a woman who, faced with the challenge of her life, discovers new purpose and meaning.
Reinventing Emma is not only the story of a young stroke survivor, it is an invaluable observational memoir for health professionals, written by one of their own who has travelled to 'the other side'.
As a former health professional, Emma has rare insight into life as a patient, and emerges with a very different perspective on person-centred care.
For anyone who encounters seemingly insurmountable challenges in life, discover how Emma reinvents herself and develops resilience.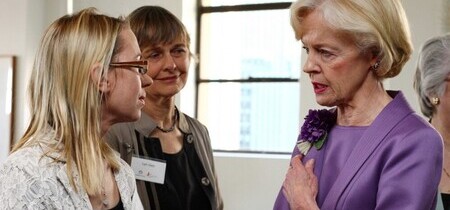 Author: Emma Gee
Foreword by: The Honourable Quentin Bryce AD CVO (former Governor General)

"…I've just finished "Reinventing Emma" and never felt so inspired. If you can, read this book. Read it if you're feeling like your life is hard, or if you're struggling for some perspective…"

"As a future Registered Nurse, your book has helped to open my eyes to think about every single patient as being their own individual person and think about how they would like to be treated, even when they can't tell me how they are feeling. Family involvement needs to be at the forefront of patient care, and the strength of a family in the recovery of the patient is evidenced by the literature surrounding strength-based nursing"
Abigail Buckwalter, Business executive Officer, Nestlé Health Science Oceania
The Collaborative Forum 2016.
" … I am a 75 yr old who has had depression for the last 30 years. But reading your book has altered my thinking in such a way that I am now experiencing happy moods. How you have done this is nothing short of miraculous…"
Anonymous